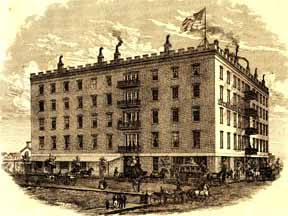 CLOSE THIS WINDOW TO RETURN TO THE MAIN FRAMESET

[This window is separate from the base frameset. We do not wish to occupy your memory capacity or task bars longer than necessary. When you are finished, you can close it using the button below or the standard window closing, or simply minimize it and it will close itself in a bit over 90 seconds.]
The International Hotel, as it was known in 1867, is more familiar to Minnesota history under its original name, the Fuller House. It was located at the corner of Seventh and Jackson Streets until destroyed by fire in 1869.
The most familiar incident surrounding the hotel occurred in 1857. That year would later see an economic crash that caused the population of Saint Paul drop from 10,000 to 5,000, but early in 1857, the city withstood an attempt to move the territorial capital from Saint Paul to Saint Peter.
The bill to move the capital had actually passed the territorial legislature when Joe Rolette, the legislator from Pembina, intervened. Rolette was a French Canadian known for wearing Native American clothing and adornment. More importantly for the city, he was the Chairman of the Enrollment Committee of the legislature, and a partisan of Saint Paul's claim to the siting of the capital.
Rolette put the bill in his pocket after passage, and secretly secured it at Truman and Smith's Bank. He then sequestered himself at the Fuller House, playing cards and laying low, while others reported that he was on his way back to Pembina by dog sled. When the time limit for the capital relocation bill had expired he reappeared and produced the bill. Since it had never been enrolled, it did not become law, and the capital remained in Saint Paul.
On October 13, 1857, a state constitution was ratified. On May 11, 1858, Minnesota was admitted to the Union as the thirty-second state. The capital stayed in Saint Paul.
Lithographic image is from the permanent collection at the Ramsey County Historical Society

CLOSE THIS WINDOW TO RETURN TO THE MAIN FRAMESET